This year we had the pleasure of bringing site-specific dance education to over 400 youth and seniors in the LA area— many of whom had no previous dance and/or arts experience. We're grateful for the opportunities afforded to us by both our institutional parters and our funders, and look forward to continuing this work in the new year!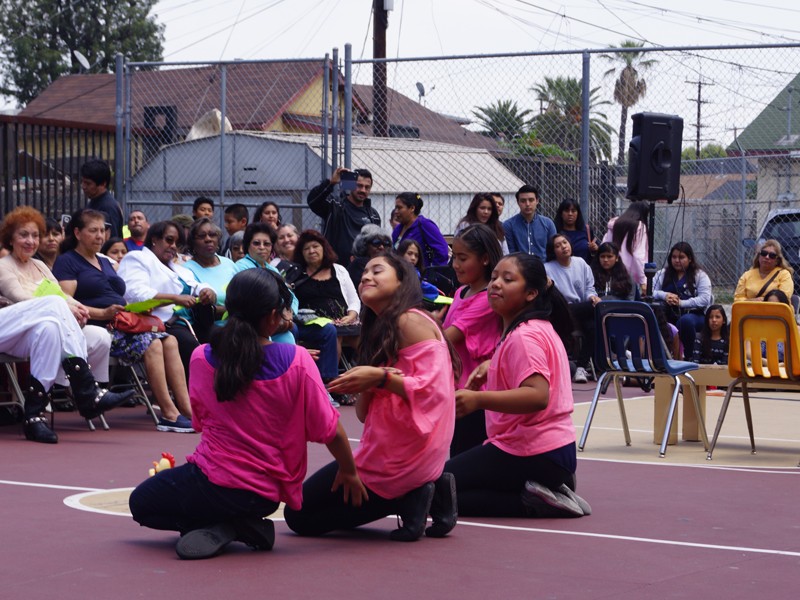 In 2016 we …
Started off at El Sereno Middle School with our Duck Truck Residency Program. Through this program we bring arts education to schools around Los Angeles, via a mobile classroom.At El Sereno, more than 20 students from Ms. Velazquez's class worked with teaching artists, Mercedes Ibarra and Shantel Ureña over 12 sessions. At the close of the program, more than 60 El Sereno students attended the closing production, which included a performance of At The Oasis, by our professional dancers. El Sereno's amazing principal, Joyce Dara even wrote a blog post about our time there! We're excited to continue bringing site-specific dance to El Sereno Middle School in 2017!
Enjoyed a collaboration with A Place Called Home and residents of Dunbar Village and Rittenhouse Square. This collaboration formed through our Ducktales program, which brings together seniors and youth to share stories and create performance pieces. Our teaching artists Deidra 'Krucial' Cooper and Shantel worked with a group of 20 students ranging in age from 8-10.The seniors and youth met at Dunbar Village for a story sharing workshop. Susana, one of the senior participants, shared a tearful story about her mother. It was the presence of one of the youth that helped her heal and process the loss. During the spring concert at A Place Called Home, the student performed a solo piece dedicated to Susana's mother to the song 'Gracias a la Vida (Thanks to Life)' for over 150 audience members. With the support of Board Member, Jamarah Hayner we were able to offer the senior participants free transportation to attend the performance.
Returned to Warren Lane Elementary in Inglewood for the fourth year of Duck Truck Residency programming! Working with 28 students from Mr. Ginsberg's class we created an incredible culminating performance that coincided with the school's open house. In attendance was special guest Councilmember George Dotson from the City of Inglewood. The students were so excited that they performed twice for an audience of over 100 parents and faculty members. Teaching artists Krucial and Mercedes said these were some of the most energetic students they've ever worked with! We are looking forward to a fifth residency.
Closed the arts ed season at East LA Performing Arts Academy. We had a large class of 45 students from one of the school's dance classes. Heidi Duckler Dance Theatre teaching artists Mollie Wolf and Micah 'Jamz' Abbrey did a magnificent job preparing and challenging the youth—many of whom were at different levels of experience—for the final performance. One of the most beautiful endorsements we received all year was from a student at ELAPAA:


"To be good at site-specific dance you need imagination, which was quite hard for me since I feel I left mine back in elementary school. However, over time I was reunited with my inner child and that made performing the piece possible! Having the Heidi Duckler Dance Theatre Company come in and work with my school was an amazing experience in which I would recommend to anyone interested in dance. The instructors were both patient, understanding and deeply devoted to their careers. I would want to thank the Heidi Duckler Dance Theatre for teaching me what dance really is and what is needed to succeed in the dance world."
In other DuckEd news …
We retired our beloved 1968 Oasis. We were lucky to find another vintage trailer to continue our mobile arts ed work!
In this upcoming year we're excited to collaborate with St. Mary's Academy, an all-girls Catholic School in Inglewood. We look forward to continued expansion. Please contact us if your school or community group is interested in bringing a world-class site-specific dance program to your location.
Special thanks to everyone listed above, and … TSA Properties and Jewel Delegall, Dance Coordinator at A Place Called Home for your leadership and helpful insights that made this residency a success! Principal Eboni Kemp and the staff of Warren Lane Elementary, who were incredibly responsive and dedicated partners and for that we are thankful.And Principal Carolyn McKnight and the faculty at East LA Performing Arts Academy for their vision and dedication to cultivating the next generation of art makers and leaders.
See you in 2017!
Post by Experience Director, Allegra Padilla