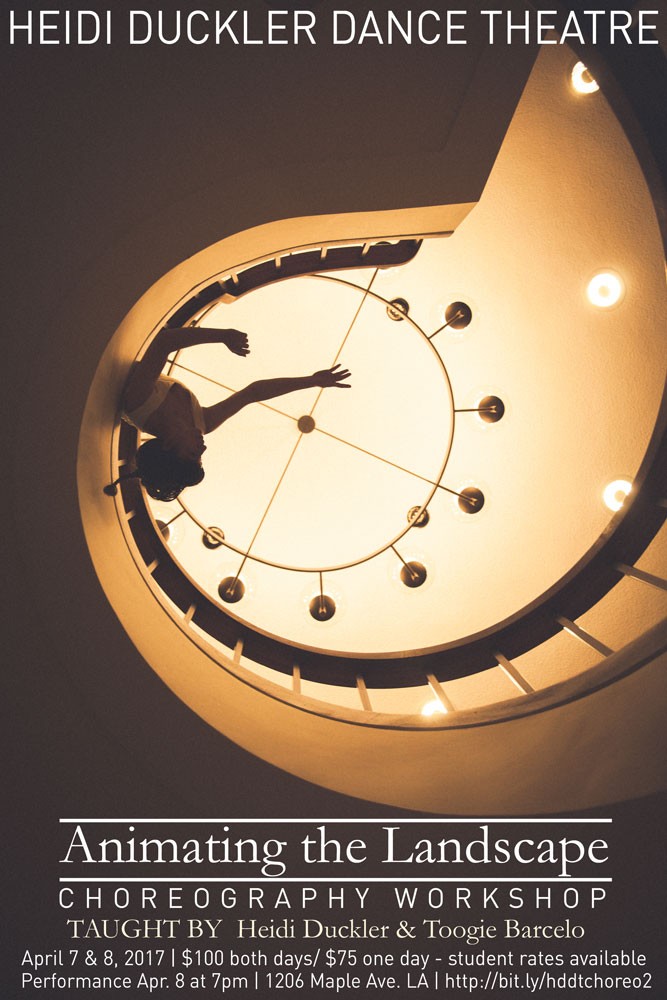 Whether you're a serious site-specific dancer, or a mover looking to expand your repertoire, our upcoming choreography workshop, Animating the Landscape is sure to have something for you!
Taught by Artistic Director, and choreographer Heidi Duckler, and Associate Artistic Director and Company Dancer Teresa 'Toogie' Barcelo, the two day workshop will focus on generating original choreography and integrating movement and the environment.
Join us Friday April 7th (10a-4pm) and Saturday April 8th (2-6pm) in our downtown Los Angeles headquarters for two days of creating movement rooted in space and place, and, of course, animating the Los Angeles landscape! The session will conclude with the opportunity to share your original choreography at an informal public performance Saturday (April 8) at 7pm.
Want to join, but can't participate both days? That's fine too. Single day options are available. Student rates are available as well as a limited number of scholarships for individuals interested in volunteering for the company. Email Raphaelle@heididuckler.org for information.
Spaces are limited! You can find more details or reserve your spot here.