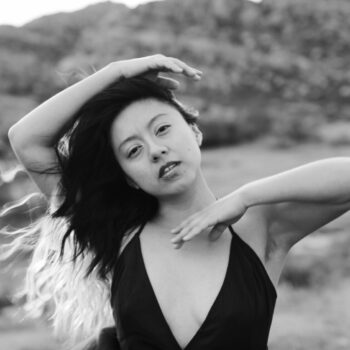 Letxia Cordova is a Mexican American photographer, filmmaker, and dancer in Los Angeles, with a passion for site-specific screendance and performances. Letxia believes in the importance of accessibility and  inclusivity in the arts: anyone can and should experience the healing power of creating art.
Letxia's most impactful influence as a dancer comes from training under Karen McDonald, Mark Tomasic, Vanessa VanWormer, and Jay Lee at Santa Monica College, where she studied ballet, Limón, and Horton dance styles. Having participated in Dance In NYC, a competitive program that took dance students on an immersive experience of NYC's dance culture in 2018, it was serendipitous that in 2022, her dance film "Reflection" was accepted into the Mobile Dance Film Fest in NYC, where it screened live at Gibney Dance. Among her most memorable dance films is "Bluebird," "BOXED," and "The Sun," which, coupled with mentorship and grants, she choreographed, directed, and screened . After performing for Beatriz Vazquez's "A La Rueda Rueda" for Ebb & Flow in June 2022, Letxia became a teaching artist for Heidi Duckler Dance. In the fall of 2022, Letxia became a Dance Camera West board member under mentor and artistic director Kelly Hargraves. In the spring of 2023, Letxia began a new role with Heidi Duckler Dance as their Education Manager. Under HDD, she will also be mentoring an artist who was in foster care through the Dr. Kerry English Fellowship Program – a dream, honor and privilege, as someone who was in foster care herself before she was adopted.
Letxia will continue teaching, dancing, filming, collaborating, and creating art in LA, working on site-specific dance films and live performances. She is currently exploring the idea of community. 
https://www.letxia.com/