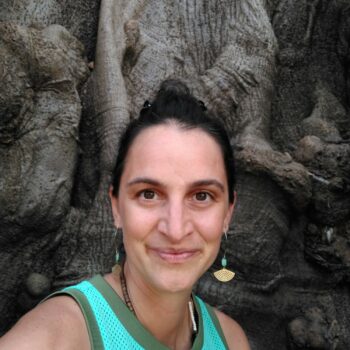 After teaching dance full-time for fifteen years in various public and private schools, Vanessa Neva decided to share her passionate knowledge of sharing global citizen education through Dance and Wellness to her community. Native of Belgium but an Angelina for over twenty years, historic district of West-Adams is for her what comes closest to the neighborhood she grew up in Brussels. A diverse community with a rich history! In 2021, she opened PiYoDa Flow a multi-lingual space for dance, wellness, community and culture for all ages.
Prior to being an educator, Vanessa Neva worked in the entertainment industry in her early years as a performer, then moved to New York for five years to tour worldwide with various dance theatre companies. When her son turned two, she retired from performing and focused on developing and teaching her program Dance and Global Consciousness.
Awarded full scholarships, she holds an M.A in Performance Studies from NYU and a B.A in Cultural Studies from UCLA. Vanessa Neva is also a RYT (Registered Yoga Teacher) and AFPA certified in Pilates. Her work has been performed in Europe, West Africa and the US. She most recently developed a Dance Program during for three years at the Geffen Academy at UCLA, completed a Fulbright Research on the decolonization of the Body in Senegal for 9 months, and is happy to join the teaching artists team at Heidi Duckler Dance.