On Saturday, October 8th, we opened When I Am King in Chinatown's King Hing Theater.
Once a vibrant cinema, the now abandoned projector rooms, box office, and vast theatrical expanses play host to Heidi Duckler Dance Theatre's latest hit. One audience member called it a "whimsical adventure," while another said, "this is the coolest show I've seen all year in Los Angeles."
When I Am King is the company's largest (and perhaps, most exciting) show of the year. Why? In addition to a cast that features some of LA's most dynamic dance-makers, we brought back the "HDDT Dream Team". (A title coined just this very moment.) Heidi Duckler collaborated on When I Am King with Production Designer Dan Evans, and Composer Amy Knoles — the same group that created 2003's masterpiece, Sleeping With The Ambassador.
The pool at the Ambassador Hotel was empty, the walls were cracked, but in an earlier, more innocent time, the Ambassador Hotel played host to a generation of dreamers. The conceptual, impressionistic and highly athletic piece led audiences on a winding tour of hallways where abandoned haberdasher and tobacco shop shifted in and out of focus; through Paul Williams' art-deco Coffee Shop, where Hollywood hierarchy once held table, and on to Sammy Davis Jr's hot spot: the Cocoanut Grove, conjuring up memories of old Hollywood and the hotel's storied past.
Similar to the 20-years-dormant King Hing Theater, the public hadn't been allowed inside the Ambassador Hotel since its closing in the 1980's, but the hotel still loomed large in Hollywood legend. Amid bright lights, disco music and dashing waiters, a scene of multiple reversals emerged. The audience found a surprising perspective as objects changed form and the set came to life, leading one New York Times critic to offer "big applause." The Ambassador Hotel had been closed for more than a decade, and HDDT's performance was one of the last opportunities for the public to see the hotel as it once was before the building was demolished and rebuilt as a public school.
Sleeping With The Ambassador became an instant-classic, an ambitious monument of a performance that introduced hundreds of new audience members to Heidi Duckler Dance Theatre. Now the creative team is back, and they're picking up right where they left off. (Though with another decade's-worth of work under their proverbial belts.)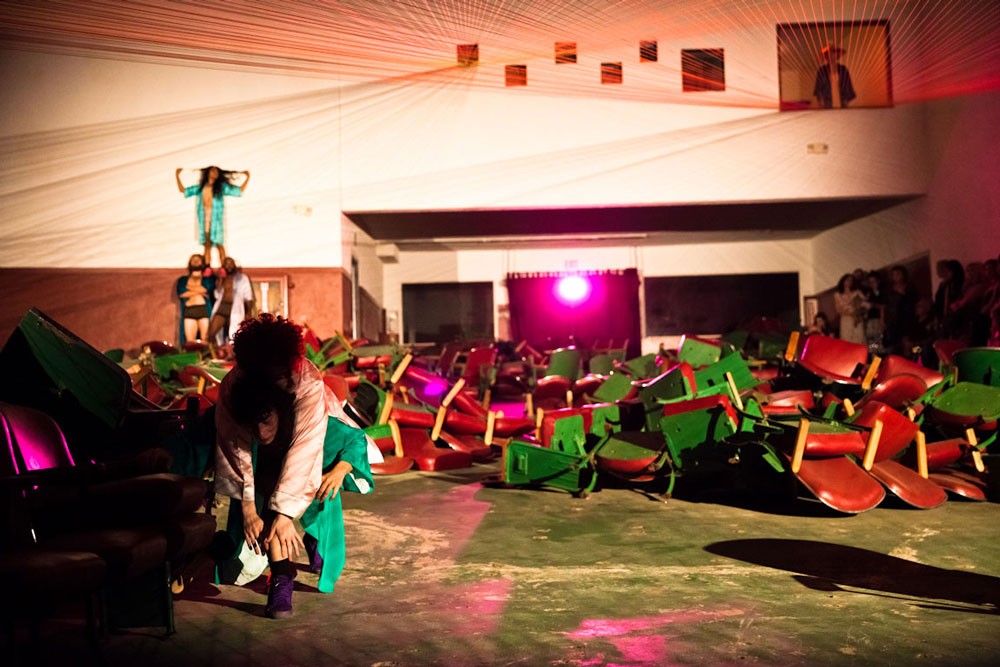 When I Am King explores what it means to be a public figure—by whatever measure: a presidential candidate, a Youtube star, or just a person who likes to Instagram their lunch. In a time when people struggle with notions of freedom, what does it mean to have control or power? Audiences travel through the theater with this mobile work, enjoying danced pieces in installation created by Evans. Each piece examines a different identity, and aspect of the cult of personality.
LA Downtown News voted this performance as a "Do Not Miss" for the week!
You can purchase tickets here or by calling us in the office at (213) 536-5820.