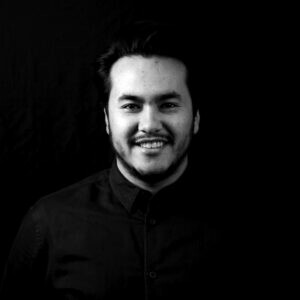 Nefer Fernandez
Co-Founder/Principal
No Applicable Office
Nefer Fernandez is a co-founder and principal of Not Applicable Office.
He is an architectural thinker, artist, and filmmaker. Originally born and raised in Bogota, Colombia, he moved to California in the early aughts, where he received his undergraduate education at the University of Southern California. Nefer's interest in design thinking and art led him to obtain a Master from Columbia University (GSAPP) in New York City.
Early in his career, Nefer worked in single family housing with Johnston Marklee (Los Angeles, CA), Formation Association (Los Angeles, CA), Ezequiel Farca (Mexico City, MX) and Michael Maltzan Architecture (Los Angeles, CA). After obtaining his Masters, he worked with Adamson Associates, where he gained experience in large scale buildings throughout the west coast. Consecutively, Nefer became the studio director of RFRM Collective, an architecture studio he co-founded in 2016. In late 2022, Nefer founded Not Applicable Office, a multidisciplinary studio at the intersection of Art, Architecture and Film.
Nefer's experience and interests have provided him with a wide spectrum of knowledge that is both conceptual and practical. His collaborations have been widely published in digital and print media, including GA Houses and El Croquis. His graduate work is in Abstract 2019, a yearly publication of selected work and research from Columbia University GSAPP. In 2021 he was a guest lecturer at the Universidad Nacional del Litoral in Santa Fe, Argentina. In 2022, his work titled Maintaining Dichotomies (Holding opposing thoughts) was part of a group show at the art gallery Modest Common in Downtown Los Angeles. Nefer currently resides in Los Feliz where he enjoys long bike rides and walks around Griffith Park.