Calling all foster youth ages 18-24! Dancers, visual artists, poets, writers, musicians, creators, dreamers, activists, ~ any enthusiastic individual who is willing to try new things!
Program Description
What is an issue you see in your community that you are passionate about? How would you engage your community?

Spend 6 months exploring this topic through the arts (Weekly engagement activities, schedule will be jointly discussed)

Have 1-on-1 mentorship with an accomplished Los Angeles multidisciplinary movement artist as you work to create a public presentation

Gain leadership skills, communication skills, develop your personal artistic vision/voice, and learn what it takes to create a production, from budgeting to marketing, networking, and logistics.

Based at the MLK Jr. Outpatient Center, this program brings foster youth, artists, health and wellness together. Key Contact: Dr. Janet Arnold Clark
Timeline
| | |
| --- | --- |
| Fellowship Recruitment Begins | September 10, 2020 |
| Fellowship Application Opens | October and November 2020 |
| Deadline for submission | December 18, 2020 at 4:00 p.m. |
| Panel Review | Late December / Early January |
| Participant Notification | January 7, 2020 |
| Fellowship Agreements signed | January 14, 2020 |
| Fellowship Period | January 21, 2021 – June 21, 2021 |
| Final Report | July 21, 2021 |
Fellowship Outcomes
Recipient will receive $2000

Recipient works on a special HDD artistic project at the MLK Jr. Medical Center Campus (possibilities include a dance piece, film, poem, public art work, multi-media creation, etc.)

Learn HDD's methodology, apply theory to practice

Learn about Dr. Kerry English and his legacy

Exposure to variety of artists in the presence of mentor

Public presentation with an audience (in the form of performance, workshop, panel, or screening)

Will gain life-long career skills
Who is Heidi Duckler Dance?
Heidi Duckler Dance creates place-based performances that transform non-traditional spaces, providing learning opportunities and engaging diverse communities, in the belief that the arts can change our vision of the world and of ourselves.
Founded in 1985, Heidi Duckler Dance (HDD) continues to redefine the relationship between audience and art. HDD has developed a participatory and transparent practice in which each project is generated in collaboration with the community it serves.
Over the past 35 years, HDD has produced over 400 original works locally, nationally and internationally, creating interdisciplinary performances in both iconic locations and under-recognized spaces. HDD's programs reach more than 7,500 individuals each year. Its youth arts education programs, established in 2013, have served over 10,000 youth and families at over 25 schools and community centers throughout the City, with an emphasis on low-income communities. HDD is a company of 12 resident artists and 5 staff committed to upholding inclusiveness, consciousness, vulnerability, and connectivity through their craft.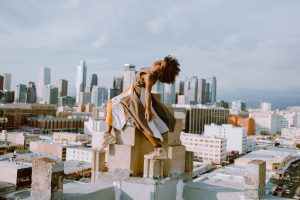 How to Apply – FOSTER YOUTH ONLY*
Artists are selected by Founder/Artistic Director Heidi Duckler
Eligibility Requirements:
Foster Youth ages 18-24 based in Watts/Willowbrook preferred
No experience in the arts necessary but an interest is required
Engaged and enthusiastic individual who is willing to try new things
Fellows must be available January – June 2021 (weekly engagement, not full time)
Application Process
Fill out this Google Form which asks for
Contact information

Short biography

A personal statement explaining why you're is interested and what you hope to gain

Upload a letter of support (from teacher, judge, mentor, employer, or a peer)
Applicant Finalists will be contacted to schedule a phone/video interview with HDD.
Application Deadline
The application must be submitted online no later than 4 p.m. PST on December 4, 2020. Submissions received after that time will not be accepted.
Fellowship Agreements
Applicants who are approved for funding enter into an agreement with HDD. 
Fellowship agreements must be signed and returned within 30 days to initiate payments.
For More Information
Please check out our website! https://heididuckler.org/
And follow us on social media!
FB: facebook.com/heididucklerdance
IG: instagram.com/heididuckler
HDD welcomes all questions regarding this program. For more information, contact:


Debra J.T. Padilla, Senior Advisor, debra@heididuckler.org