Introducing MAP Lab: Movement, Architecture, and Production. A brand new virtual workshop that culminates in the creation of your own (virtual) site-specific dance film!
In MAP Lab, you will have the opportunity to create your own tool kit for designing and composing choreography in the virtual realm. Throughout the weekend, participants will take classes with renowned architects, dancers, and videographers and explore the ways we define space. With different topologies and mapping strategies, participants will investigate the intersectionality of body and space throughout the weekend. In between master classes, participants will have the opportunity to immediately apply what they've learned through the creation of their film. During these individual workshop sessions, participants can sign up for one on one consultations with Heidi Duckler to discuss their individual projects.
We choose to view the virtual space as an opportunity to explore and challenge previous notions of dance and space. We are especially curious about the relationship between dance and architecture. Both creative disciplines ask us: how do we characterize space?
Join us for the chance to create your own spatial map for movement, architecture, and production in the virtual space!
No previous experience or equipment needed. A virtual tool kit will be provided.
For information about scholarships or questions, please email sophie@heididuckler.org
——
Schedule
Friday, June 4
10am – 12pm ~ Adrian Hoffman
12 – 1 PM ~ 20 min. individual consultations with Heidi Duckler upon request
1pm – 3pm ~ Kevin Daly
3pm – 5pm ~ Nicolas Savignano
Saturday, June 5
10am – 12pm ~ Victor Jones
12 – 1 PM ~ 20 min. individual consultations with Heidi Duckler upon request
1pm – 3pm ~ ALL TEACHING ARTISTS
Sunday, June 6
5pm – 6pm ~ Final showing
——
ABOUT THE TEACHING ARTISTS
Kevin Daly
Kevin Daly, FAIA, is the founder of Kevin Daly Architects. For over twenty years he has pursued an architecture that delves into the paradoxes of the urban condition and the consequences of intervention. Projects by Kevin Daly express his belief in an architecture that is performative on every level: environmentally, structurally, economically, and aesthetically. Bolstered by abundant research, he has demonstrated the benefits of advanced, unconventional building technology in works that are consistently recognized in publications and awards, and range from public schools, custom residences, and university buildings to affordable housing.
He is on the design faculty at UCLA and has served on juries or lectured at institutions internationally, including Stanford University, Cornell University, Rice University, SCI arc, the Architectural League of New York, the University of Texas at Austin, and RISD.
—–
How do architects characterize space? With different topologies and mapping strategies, participants will investigate the intersectionality of body and space. Architectural backgrounds and a tool kit will be provided to participants so that they can design and compose choreography in the virtual realm. Examples of sample spaces, interim spaces, improvisational spaces, iconic spaces will be used to evoke and inspire personal projects.
—–
Adrian Hoffman
Adrian (he/they), was born and raised in Cambridge, MA, where they began their training as a martial artist at Davis Sq. Martial Arts. After receiving their Black Belt, they transitioned to dance in high school at the Cambridge School of Weston. They went on to graduate from The Ailey School/Fordham University with a BFA in Dance and double minor in Philosophy/Math while also pioneering a study abroad exchange with Israel's Kibbutz Contemporary Dance Company.
Adrian is the artistic Director and founder of Cantankerous Creatures, a Boston based dance project seeking to strengthen the dance community with kindness and active audience engagement. They currently live in Los Angeles working as a dancer and choreographer. Previously they have been a company member of Whim W'Him, a guest dancer with Alvin Ailey and BODYTRAFFIC, danced in music videos for Katy Perry and Justin Beiber among others, freelanced on stage and film and appeared as a featured dancer in Greta Gerwig's recent remake of Little Women.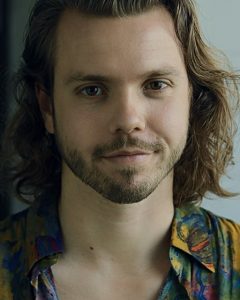 —–
Victor Jones
Victor Jones is a cultural activist, designer, and writer. Jones's creative and intellectual work stands at the intersections of architecture, art, infrastructure, landscape, and the urban experience. A central theme of his scholarship, design research, and teaching is how infrastructure, at various scales, operates as a social, political, and spatial instrument.
Jones is a design principal of Fièvre Jones, Inc. Projects include Bywater Houses (2015), Watts House Project Platform (2011), and a skate park for City Park in New Orleans (2009). In addition, Jones has written articles and books such as "New Orleans – Ecological Urbanism" in Shaping the City: Studies in History, Theory, and Urban Design (Routledge, 2013); (IN)FORMAL L.A.: The Space of Politics (eVolo Press, 2014); BASENTO Un Ponte (Euno Edizioni, 2015); and Un pont à part | A Distant Bridge (MétisPresses, 2016).
Jones has taught design studios and seminars at Tulane University, the University of California Los Angeles, and the University of Southern California. He lives and works in Los Angeles with his partner Alain Fièvre.
—–
Nicolas Savignano
Nicolas Savignano is an Argentinian filmmaker who has worked with LA's most renowned choreographers as a director, cinematographer, and editor. Originally from Buenos Aires, he moved to Los Angeles in 2015 to pursue a Master's Degree in Film Directing at Calarts, where he currently works as the Institute Videographer. Nicolas will share valuable insights on how to create a movement film from start to finish.
—–
The filmmaking workshop does not require access to special camera or lighting equipment and is meant to explore concepts that can be applied with any type of filming device.
Camera framing: Camera angles, shot sizes, types of compositions. How do they relate to the space, the story, and the characters.
Camera movements: How to do them and what they convey.
Image editing: How to cut for movement and for narrative.
Sound editing: How to build narrative through sound. How to disguise or emphasize image cuts through sound.