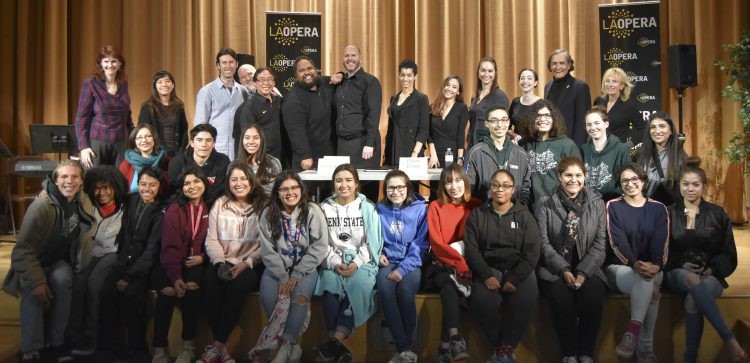 The Wreck of the Miranda LA Opera Sing Through with NoHoHi Students
Thank you to the L.A. Opera, Stacy Brightman, VP Education & Community Engagement, and the Autry Museum of the American West for hosting today's "sing through" of the new youth opera The Wreck of the Miranda. "The opera was VERY much inspired by the work of The City Project and others for environmental justice. We worked with the Autry to have students investigate environmental issues in Los Angeles, and then attended their research presentations. Our composer and librettist wrote an original youth opera inspired by their research. The opera is set at the docks, and revolves around a cover up of a bay contamination and the students who as a team investigate and become agents of change. This will be the first sing-through and a chance to workshop the opera. We plan to record the sing through on Tuesday, revise it a bit more, and perform it with students at ten schools next fall."
Thank you to Nathan Wang, composer/pianist, Matthew Leavitt, librettist, Kelci Hahn, Soprano, Joanna Lynn-Jacobs, Mezzo, Ashley Faatoalia, Tenor, Vincent Robles, Baritone, Erin Alford & Hannah Goodman, Ensemble, for their brilliant performances, collectively and individually!
Students offered insightful critiques from North Hollywood High Magnet School, with their teacher from the Marine Biology Class.
Heidi Duckler, Artistic Director, Heidi Duckler Dance Theater, offered dance and costume ideas.
Thank you to Erik Greenberg, Autry Director of Education & Vistor Engagement.
This work is a best practice for STEAM – science, technology, engineering, arts, and math in schools.
Me? I was thrilled to be there!

Robert García