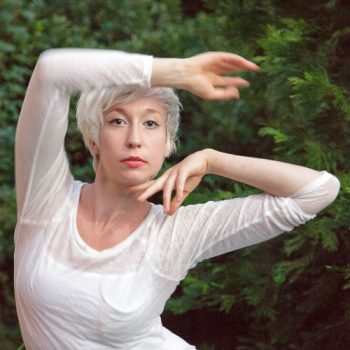 The space goes black, but becomes my blank canvas. The audience is silent with anticipation, leaving only the sound of my breath and heartbeats as I prepare. This is a moment that captures all the potential in the world. As a dancer, I feel the ability to change time and space, to inhabit the body of an audience and stir their imaginations. A mentor of mine once asked, "if artists don't exist, who else will speak the truth?" Every hour of dance exploration offers more pathways to experience the reality and details of life's perplexities. Dance allows me to live multiple lives within one and travel between nostalgia of the past, purity of the present, and insight into the future. I strive to shed all artifice and find genuine qualities that can resonate with humanity. The aware body provides a limitless expanse of creation, but the body alone is not powerful. Dance must stimulate the beloved imagination in order for unsparing freedom. I love translating the imaginarium of our earthly existence and bringing the world of the unseen to reality. I must dance. I have in me all the dreams of the world.
Passion, I have, but my technical training is atypical for a dancer. I began dancing at the age of sixteen, but I like to think my history gives me an intriguing perspective and subtle quirkiness. I will forever be a student, embracing every learning opportunity, and expanding my horizon more and more as life passes. Whether I'm inside a box or on top of a chimney, creating with Heidi Duckler Dance Theatre/Northwest continues to surprise and inspire!
It is my opinion that a performance should be more than a mere spectacle. It should be a gift to the spectators, something so powerful and moving that it will become ingrained within the collective memory. Subtle, loud, or anywhere in between, dance must be transcendent. We need innovative experience in order to progress and exist together. Dance is my key to the magic of this world, an endless frontier of exploration, creation, and communication.