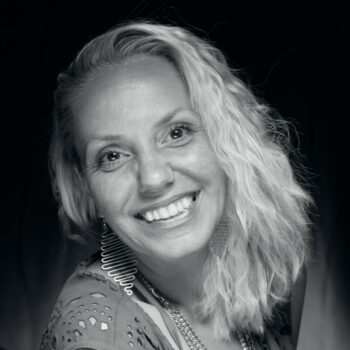 Ziemba grew up in Oak Park, Illinois and started dancing at the Academy of Movement and Music at age four. She attended Interlochen Arts Academy and after graduating, continued her dance training at the State University of New York at Purchase where she earned a BFA in Dance Performance.
After graduation she worked with Instruments of Movement, starting as performer and choreographer before a promotion to Assistant Artistic Director and, later, Co-Artistic Director. Ziemba co-produced five shows with IOM while also dancing with Concert Dance, Inc., The Civic Ballet, Hedwig Dances, Chicago Opera Theater, Sarasota Opera Theater, The Lira Ensemble and as an apprentice with River North Dance Chicago.
In 2013, Ziemba completed her Master of Arts in Art Education from the School of the Art Institute of Chicago. She also performed and choreographed for MOMENTA, was a soloist, resident choreographer, and Associate Artistic Director of Cerqua Rivera Dance Theatre, and then took on the role of Community Engagement Manager for Audience Architects, a dance service organization in Chicago. In 2019, she was a part of the Annenberg Foundation's third cohort of Annenberg Alchemy Tech and recently completed the Coro Women in Leadership 2022 Fall Cohort Program. Ziemba is in her sixth year with HDD and has produced over 60 productions with the organization.
Contact
raphaelle@heididuckler.org
213-373-0366