Photos by Sean Deckert, Adrien Padilla, Rush Varela, and Ginger Sole.
A curated series of transdisciplinary salons
A series of salons inviting audiences to listen, explore, meet new artists and experience their work. Guests enjoy wine, snacks and great conversation as we behold beautiful beginnings in the world of creation and collaboration.
March 2022 – Illuminating the Bendix
The first salon in this series featured artists:
ISABEL BEAVERS ~ a transdisciplinary artist and creative producer based in Los Angeles. Her work explores ecologies, examines environmental histories and postulates about climate futures through multimedia installation + new media.
JOAN H.P. FRICKE ~ a multidisciplinary, LA-based artist. She uses voice and choreography to investigate the nonlinear existence of time and space.
NAILAH HUNTER ~ a multi-instrumentalist and composer from Los Angeles. She combines harp, synth, found sounds, and voice to create reflective sonic landscapes that promote healing and self-awareness for herself and the listener.
—
May 2022 – Stories from Storage
Stories from Storage, was an unearthing, a revealing, and a rejoicing of memories we had hidden, packed away, and forgotten. The rooftop of the Bendix building was transformed by two distinct landscape installations created by ceramist and plant artist, Mipa Shin and antidisciplinary artist, LaRissa Rogers. Dancer and HDD Artist in Residence, Ching Ching Wong, created a dance score in response to both artworks alongside dancer Jobel Medina with musicians Dwight Trible, Pablo Calogero, and Roberto Miranda.
—
August 2022 – Second Nature
Second Nature, was a unification of film, dance, music, and conversation that delved into the significance of Slavic cultural stories and experiences. The salon included a full screening of HDD's dance film series, "Counterintelligence: The Story of Sister Alyonushka and Brother Ivanushka',' a contemporary reimagining of the Russian folktale told in a tongue and cheek telenovela style. The film characters were brought to life through an exciting live performance of the story's epilogue featuring dancers from the telenovela and choreographed by Raymond Ejiofor with music by Justin Scheid. An expert panel discussed topics relating to the conflict between Russia and Ukraine.
—
December 2022 – Play by Ear
Weaving together performances, exchanging ideas, sharing food and experiencing the warmth of gathering, Play by Ear was a participatory evening that unfolds stories and songs about how we might envision a future together. The salon featured Five Skins, Jessica Emmanuel, Kamyi Lee, and Weaver in a collaboration between classical music, dance, multimedia design, and hand craft arts.
Special guests El Haru Kuroi, an East LA trio combining Mexican, South American, African, and American Jazz elements, opened the salon. Frequent collaborator Snezana Petrovic  transformed the interior of the Bendix Building with an art installation.
—
February 2023 – Come As You Are
We welcomed a wonderful union of work between our long-time collaborating creative technologist & projection artist Kamyi Lee, stellar pianist and composer Tomoko Ozawa, HDD dancers Edgar Aguirre, Rebecca Lee & Montay Romero, DJ William Jay YIvisaker and Seoul Institute of the Arts Interns Seoyoon Choi & Yejin An.
Our rooftop space was transformed into a magical seaside escape and audiences then traveled down into the belly of the Bendix to explore the underworld for an unforgettable evening of music, dance and conversation.
—
May 2023 – Never Ending Story
The salon featurde original works from Heidi Duckler, HDD Artist in Residence Raymond Ejiofor, and guests DaEun Jung, and Ok Nico. Audience members movde through different parts of the Bendix Building to experience an interconnected web of narratives across different artistic mediums, flowing together to create one "never ending story."
—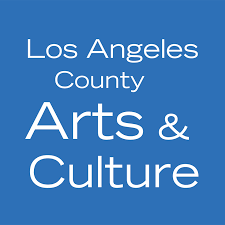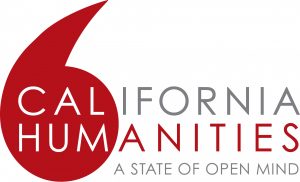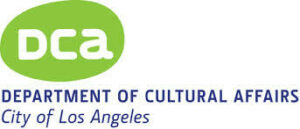 This project is supported in part by the Los Angeles County Board of Supervisors through the Los Angeles County Department of Arts and Culture, the City of Los Angeles Department of Cultural Affairs, and by New Music USA's New Music Organizational Development Fund. Funding has also been provided by California Humanities and the National Endowment for the Humanities (NEH) as part of the American Rescue Plan Act of 2021.