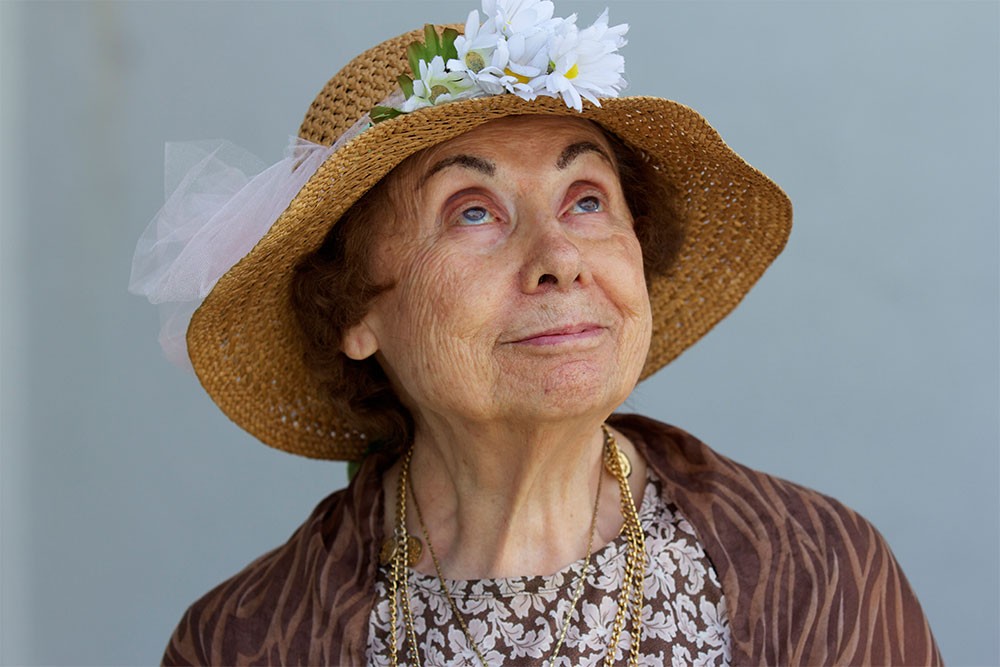 We met Trudy, 87, at Hollenbeck Palms Continuing Care Retirement Community. She was born in Philadelphia and raised in the Lower Eastside of New York City. She moved to Los Angeles as a young woman because she was fed up with snowstorms. Here, she got married, and worked as bookkeeper and a secretary.
Although Trudy is a self-described "ham" who sings songs and tells jokes, she never had an opportunity to perform or express herself artistically. At Hollenbeck Palms, she said that most residents sit and watch things. She said she's never seen the residents as lively and "theatrical" as they were during Heidi Duckler Dance Theatre's Duck Tales Workshop.
Our workshop uses personal objects selected by the seniors as the basis for movement exploration. Participants are lead through a series of exercises and generate their own movement sequences from prompts designed to stimulate their imaginations.
Dennis Hiebert, the Activities Coordinator at Hollenbeck Palms, said that the workshop worked particularly well with patients with dementia because they were creating movement in the moment, not memorizing moves or choreography.
Trudy liked being able to "make believe" and she was one of the most enthusiastic and exploratory participants. During the last workshop she sang all the verses of the folk-song Red River Valley while using one of the props in the exercise as a banjo. When asked about her previous dance experience, Trudy bobbed her hands side-to-side, declaring, "That's about as far as I go!" She also stated that she did not sing in public, "if I had a piano I would hide behind it." However, in the workshop she was twirling, doing a tango with a stuffed monkey doll, and singing. Trudy says that she tries to embrace new experiences and enjoy life, "You know because otherwise you cut yourself off too much. This way you go with the flow."
Our introductory Duck Tales program was a success because of participants like Trudy! We're so excited to start a new year, meet more lovely people and shared their incredible stories!