2022 Board Announcement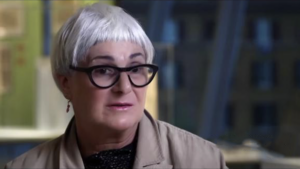 We are honored to welcome Senior Curator and Head of Architecture Special Collections at the Getty Research Institute, Maristella Casciato, to our Board. We look forward to working together as we further explore the intersections between dance and architecture.  Learn more about her below!
—
From Maristella's appointment to the Getty Research Institute:
"Maristella Casciato is an exceptionally accomplished scholar and curator who is passionately committed to the study of architectural history and the preservation of architecture. She is the ideal steward for our tremendously significant architecture holdings," said Thomas W. Gaehtgens, director of the Getty Research Institute (GRI). "The architecture and design collections at the Getty Research Institute are broad, diverse, and ever-growing. Overseeing these archives and making them come to life for scholars and general audiences, is an exciting challenge at which I know she will excel."
Added Chief Curator Marcia Reed, "Modern architecture is among our most in-demand research material, and Maristella Casciato's expertise in 20th-century European architecture will be invaluable in this area. Additionally, her wide-ranging interests such as recent in-depth research into the architecture of postcolonial India and non-Western contributions to city planning will provide fertile fields of study that will dovetail with many ongoing research projects at the Getty."
Maristella Casciato was a tenured associate professor of History of Architecture at the University of Bologna, School of Architecture, from 2002 to 2012. Prior to that she taught history of architecture at the University of Rome Tor Vergata. She has lectured widely in European and North American universities and has organized and chaired several international symposia.
Casciato served as chairwoman for the international non-profit organization Do. Co.Mo. Mo. (Documentation and Conservation of the architecture of the Modern Movement) under the aegis of the French Ministry of Culture and Communication from 2002 to 2010. During her tenure, Do. Co.Mo.Mo. grew from a European group of activists to a global organization.
Casciato's scholarly studies focus on the history of 20th-century European architecture and the theory of the conservation of our recent past. She has published and co-edited books and essays translated in several languages and has contributed many essays to international peer review journals. She has been awarded a Fulbright Fellowship (1992), a research grant at the INHA in Paris (2004), and the Mellon Senior Fellowship at the Canadian Centre for Architecture in Montreal (2010).
In 2012 Casciato joined the Canadian Centre for Architecture in Montreal to become Associate Director, Research. Her expertise was directed to coordinating the scholars' programs and the Mellon research projects.
Since the late 1990s, she has been engaged in a research project on architect Pierre Jeanneret, Le Corbusier's longtime associate and principal co-designer of Chandigarh, the new capital of the Indian  state of Punjab after independence. On this topic she co-curated with Stanislaus Von Moos, the exhibition Twilight of the Plan: Chandigarh and Brasilia (2007), she contributed to the book Chandigarh 1956 in collaboration with Ernst Scheidegger (2010), and was co-curator and coauthor (with Tom Avermaete) of Casablanca Chandigarh. A Report on Modernization (2014).
"I am delighted to accept the position and to join the team of the GRI. I shall bring my expertise, my passion for architecture, and my scholarly research to enlarge the scale and the ambitions of the GRI. My objective will be to explore beyond the collections and to engage in programs that bring the modernist project to more challenging steps, embracing the contemporary built environment and its multicultural expressions," said Casciato. "More and more, architecture has a meaningful impact on people's lives. Since my first encounter with my peers at the Getty and the scholarly community in Los Angeles, I am struck by the way architecture has regained a central role in expressing the new needs and new social and cultural expectations in a region as environmentally aware as California. I shall continue my work in the modern architectural world with the belief that each individual contribution can make a difference when integrated in strategic projects, which I plan to initiate."
Casciato has a long history of innovative curatorial practice, resulting in noteworthy exhibitions. Her first exhibition, Funzione e Senso: Architettura-Casa-Citta: Olanda 1870–1940, organized in collaboration with the Dutch Documentation Centre in Amsterdam, was presented in Rome in 1979 and traveled to Venice, to the Milan Triennale, and to Turin. From 1982 to 1985 she co-curated the exhibition series Roma Capitale, 1870–1911, organized by the Municipality of Rome. She collaborated with the Milan Triennale during 1985–1998. In 2008, she served on the team for the Italian Pavilion at the Venice Biennale of Architecture. Casciato has been part of the curatorial team of the Museum MAXXI in Rome since its opening in May 2010 and has been responsible for five major exhibitions there.